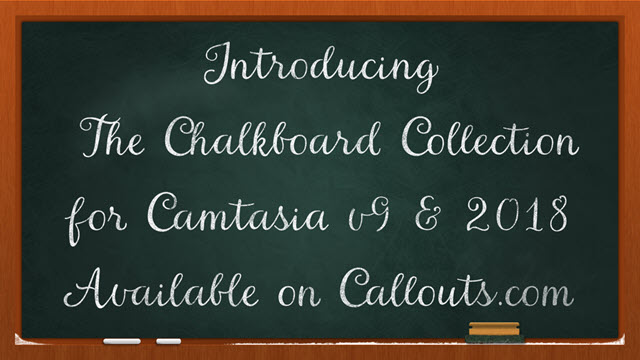 Camtasia Chalkboard Template Collection
We are proud to present our latest template collection for Camtasia, The Chalkboard Collection!
The template collection is optimized for Camtasia 9 and Camtasia 2018.
It includes 2 green chalkboard backgrounds, two overlay files to create a chalk-like effect on any graphics or text placed under it, help file, font suggestions and more than 50 premade chalk texts.
The templates are well organized and installs directly into the Camtasia library.
Just install and drag-and-drop from the library to your Camtasia timeline. Place the chalkboard effect over your text, image or video for a chalklike effect.
Check out the video below for an overview of included assets.
TechSmith Camtasia© is made by TechSmith Corporation. More info: www.techsmith.com. This Camtasia Template Collection is an independent Library Asset for Camtasia, made by SoftwareCasa/Callouts. SoftwareCasa is not associated with TechSmith Corp. This Camtasia Template Collection for Camtasia can be downloaded by members on www.callouts.com.
Keywords
back to school
,
camtasia
,
camtasia 2018
,
camtasia 8
,
camtasia 9
,
camtasia animation
,
camtasia assets
,
camtasia effect
,
camtasia intro
,
camtasia project
,
camtasia studio
,
camtasia studio 2018
,
camtasia studio 9
,
camtasia template
,
camtasia text
,
chalk
,
chalk board
,
chalk text
,
chalkboard
,
chalkboard effect
,
chalkboard text
,
education
,
educational
,
intro
,
outro
,
presentation
,
presenter
,
school
,
school presentation
,
screen recording
,
screencast
,
student
,
teacher
,
techsmith
,
template
,
tutorial videos
,
video animation