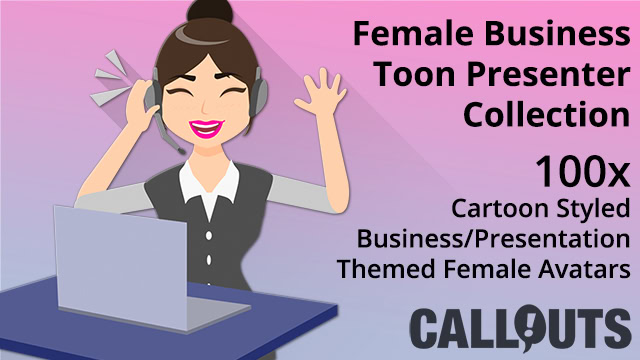 Female Business Toon Presenter Collection
100 female business toon avatars in one large collection.
The collection has a business theme, with five groups of avatars, 20 different images in each. We have included business women, customer support, casual business woman, woman in office and woman in retail sector. There is an element of popular manga style in images.
All images are large, 1024 pixels high, perfect for Powerpoint, or video presentations. They are transparent in PNG format, so you can just drop them into virtually all software, and place them on any background.
Here is an overview of included assets.
Format: PNG
Size: Height 1024px
Included Assets: 100 Graphics
ID: BS12007
Keywords
angry
,
avatar
,
business
,
busy
,
camtasia
,
cartoon
,
casual
,
customer support
,
emotions
,
female
,
friday
,
happy
,
manga
,
office
,
powerpoint
,
presentation
,
presentation video
,
presenter
,
retail
,
sad
,
shop
,
shopping
,
snagit
,
support
,
toon
,
woman