New Camtasia Calendar 2023, Beautiful Presentation Backgrounds, Explainer Graphics, and more…
Happy 2023! We have a new Camtasia template collection ready for the New Year. And a whole bunch of other beautiful assets. Check below and be sure not to miss anything. Looking forward to the best year ever 😉
Not yet a member? Premium members can access all creative assets found on Callouts. Grab a membership here and save big. You'll get instant access to the new titles below. And our entire library of presentation, video, and visual communication resources, for a low yearly or monthly fee.
OK, let's check out the new creator assets.

Peter Gillberg
Callouts Visual Assets Creator
NEW CAMTASIA TEMPLATES – CALENDAR KIT 2023
Happy 2023! New Camtasia Calendar Kit available.
This is a new collection of Camtasia calendar-themed assets. In this collection, you'll find 13 useful Calendar templates, plus 24 drag-and-drop ready monthly calendar overlays, from January to December, with both Monday and Sunday starts. The overlays can be used independently, or together with the templates.
NEW in the 2023 edition, is "Monday starts", a bunch of new templates where you can edit colors etc. As well as a cute "Create your own Calendar month" template just by dragging and dropping your images or videos into Camtasia.
The templates will work in Camtasia 2021, 2022 and later. See the preview video below for a more in-depth look at included templates as well as the preview image below.
See all Camtasia templates here
NEW BEAUTIFUL PRESENTATION BACKGROUNDS
Wonderful abstract orb backgrounds to spice up your PowerPoint, Videos, Social media, and more.
The collection includes 11 beautiful gradient backgrounds with floating orbs. Delivered in JPG format, full HD 1920×1080 px. Drag and drop into video editors, presentation software, and social media tools like Canva for example.
See all Graphics Backgrounds here
NEW CLASSIC ROCK MUSIC – "MOBY DIG"
Moby Dig – Classic Rock Music full version. Six different versions are included to fit all project needs.
NEW MONTHLY BONUS: EXPLAINER GUYS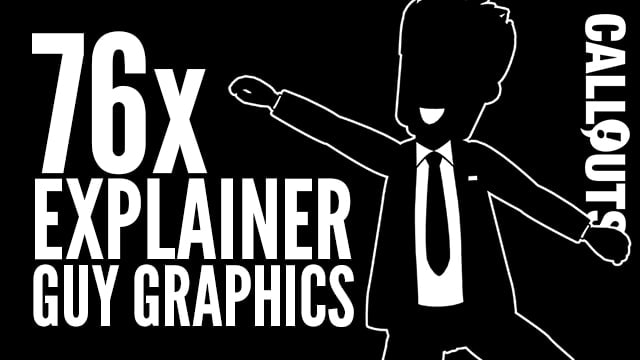 Monthly bonus, available for a limited time only! In this collection, you find a black and white business guy, in no less than 76 different poses/situations/emotions.
The collection was developed specifically to create presentations and explainer videos and to cover many situations you may encounter in your storytelling.
Graphics are delivered in Transparent PNG format and was developed with a white stroke, so they will work perfectly on all kinds of backgrounds in your presentations or videos, from white to black. They are 800 pixels tall, so they will work well in a Full HD presentation or video format.
Drag-and-drop into your video editor or presentation program, for example, Powerpoint, Keynote or Google slides. Can also easily be used with online cloud editors like Canva with ease. Or use it with your video editor, for example, Camtasia, Vegas, Premiere, or pretty much any other video editor.
A smaller version, with ten guys, is also available here for free. To get a sense of how you can use these graphics, please see a preview video showcasing the free version.

NEW MONTHLY BONUS: SUPERSTAMPS ADS 3D ORANGE
I hope you will find this Monthly Bonus a real treat.
The download includes 366 files in transparent PNG format featuring 122 different terms in three angles in 1000×1000 pixels (perfect for HD Videos too!) to create impact and action to all your marketing and other material. This volume of SuperStamps Ads 3D features the orange series of Action phrases.
NEW MONTHLY MUSIC BONUS: URBAN TRAX VOL 2
Urban Trax Vol 2 Royalty Free Music Collection is an MP3 package with an Urban Contemporary feel to it. Perfect for that grunge, urban feeling.
Handcrafted for videos and presentations, these powerful tracks strike with energy and modern style. With all instrumentals, these background music tracks are a variety of urban dance styles including house and garage.
Urban Trax Vol 2 Royalty Free Music Collection is studio-created music made by a professional musician – not just a bunch of pre-made loops assembled without thought and structure.
Download the Urban Trax collection
NEW MONTHLY MUSIC BONUS: URBAN TRAX VOL 2
Monthly bonus, available for a limited time only.
Sound effects collection with 20 high-quality dynamic drum builds. Perfect for when you want to build up your videos and presentations percussion style.
MP3 in 192 KBPs bitrate for that high-quality sound. Sound fx between 8 and 22 seconds long.
Download Dynamic Drum builds the collection
COMING SOON…
Below you find a few examples of assets currently under development.
We are looking for input for more assets! If you have suggestions for themes or resources you'd like to see, just send us a message on our contact page.
And as usual much, much more! Thank you for taking the time to check out our new resources. See you soon!