New Camtasia Infographics/Statistics Templates, New Globes, Music, and More…
This week we have a new exciting template collection for Camtasia. We spent a lot of time developing the 24 included templates, and I hope you find it useful.
We also added new Rock music, new wireframe globes, Christmas icons, and music.
Not yet a member? All creative assets found on Callouts can be downloaded by our Premium Members. Grab a membership here to save big and get instant access to the titles below as well as our entire library of presentation and visual communication resources, for a low yearly or monthly fee.
OK, let's check out the new assets!
NEW CAMTASIA TEMPLATES: INFOGRAPHICS AND STATISTICS
I am proud to present our latest Camtasia template collection: Infographics and Statistics. The collection includes 24 infographics and statistics themed drag-and-drop templates.
Installers for Camtasia 9, Camtasia 2018 and Camtasia 2019 are included, and it should also work on future versions.
The templates install directly into your Camtasia library. To use them, just drag-and-drop to the timeline, then you can freely edit any details, for example, colors, speeds, fonts, texts, etc.
24 different templates like charts, globes, world maps are included.
Download the new Camtasia Templates here.
Callouts now boasts over 600 templates for Camtasia here.
NEW WIREFRAME GLOBES
Ten new wireframed transparent graphics of our beloved earth. This time with a wireframe, to show for example connection or closed, satellite or mobile networks, etc.
There is a "wireframe only" version as well.
The files come in transparent PNG and will work in most software like office applications, video editors, as stamps and backgrounds in Snagit, Powerpoint and online applications like Canva.
See and download these and all other Earth Globe graphics here.
You find more Graphics for presentations here.
NEW ROCK/POP MUSIC "ROCK STAR"
Rock Star royalty-free pop/rock music. Rock Star is available in six different versions for all your product needs.
All "Rock Star" tracks can be found here.
See all music in the music category here.
NEW MONTHLY BONUS: SUPERSTAMPS CHRISTMAS
SuperStamps Christmas – 160 Christmas related stamps you can use directly in Snagit. Monthly bonus, available for a limited time only.
Inspired by the festive season we put together a collection including more than 160 Christmas and Winter Holiday related icons and stamps. Ready to be used directly in the Snagit Editor and most other graphic and office applications including Word, Exel, and Powerpoint.
The stamps are around 500×500 pixels large, in transparent png format so you can place them on any surface. We also have some greeting cards included in jpg format.
More information and download available here.
See all Monthly Bonus assets here.
NEW MUSIC BONUS: HOLIDAY INSTRUMENTAL MUSIC
Monthly bonus, available for a limited time only.
Instrumental Christmas/Holiday Music Theme Pack – 80 Megabytes of Holiday & Christmas Instrumental Music Tracks!
Just in time for the holiday season, instantly add that "seasonal glow" to all your multimedia productions with any of these professional, and "all original" music background tracks. Check out the video and listen to samples.
You'll find the usual orchestral flare has been added to each hand-crafted creation. And right from the very first var (that's four beats for the non-music types) you'll immediately know it's Christmas/Holiday times!
More information and download available here.
See all Monthly Bonus assets here.
MUSIC COLLECTION BONUS: CHRISTMAS INSTRUMENTAL VOL. 3
Monthly bonus, available for a limited time only.
We are proud to present our new Christmas Music collection, volume 3! This is a large collection of excellent Royalty-free music you can use in your creative Christmas and Holiday projects.
The collection includes 31 Royalty-free tracks of Christmas music, 76 MB in total. Check out the video below to listen to some samples of included music.
Included Tracks:
Carol of the Bells, one version
Christmas Delivery, six versions
Christmas is Coming, 2 versions
Christmas with Beethoven, 1 version
December Night, seven versions
Reindeer in the Snow, 3 versions
Silent Night, one version
The Holiday Effect, 3 versions
Wonderful Holiday, 7 versions
More information and download available here.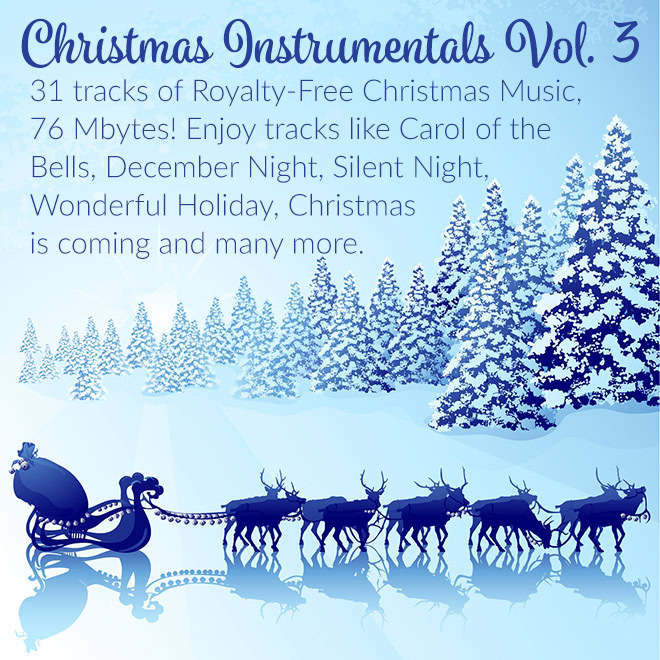 MUSIC BONUS – BLITZ COMBO MASCHINE COLLECTION
Monthly bonus, available for a limited time only.
With Blitz Combo Maschine, you get no less than 60 MB of Electronica, Funk, Infomercial, Orchestral, and Urban music tracks.
This collection includes 8 songs in many different versions, 34 tracks in total.
File Format: MP3
Genre: Electronica, Funk, Infomercial, Orchestral, and Urban
Length: 30s, 60s, 90s+
More information and download available here.
COMING SOON…
We have received a number of requests we are working on, more animals, more business assets and animated motion graphics for Camtasia. All of these are in the works and we'll post them as soon as possible.
Below you find a few examples of assets currently under development.
We are looking for input for more assets! If you have suggestions for themes or resources you'd like to see, just send us a message on our contact page.
And as usual much, much more! Thank you for taking the time to check out our new resources. See you soon!