Canada-Themed Creative Assets
Canada Day or Fête du Canada is the national day of Canada, celebrated on July 1st. We thought we'd start the celebration early, by providing loads of photos, videos, and other Canada-themed presentation assets.
We've added more than 80 photos and 50+ stock footage with this theme. Plus the national anthem and poster backgrounds, perfect for social sharing and presentation projects. I hope you'll find them useful.
These assets should come in handy, not only for our friends and members in Canada, but also whenever you want to use majestic nature and mountain videos and images in your creative projects. So be sure to check them out.
Also, be sure to request your custom made logo video intro, see Monthly bonuses below. This bonus will be removed on July 1st.
Not yet a member? All creative assets found on Callouts can be downloaded by our Premium Members. Grab a membership here to save big and get instant access to the titles below as well as our entire library of presentation and visual communication resources, for a low yearly or monthly fee.
Happy Canada Day, stay creative and safe!
O CANADA, NATIONAL ANTHEM
O Canada is the national anthem of Canada.
Originally composed by Calixa Lavallee in 1880, here performed by the United States Third Marine Aircraft Wing Band.
Download O Canada National anthem here
NEW CANADA THEMED STOCK FOOTAGE
More than 50 new stock footage reels, mainly from British Columbia, Vancouver, Vancouver Island, Cathedral Grove areas have also been added to our catalog.
See each file for a preview video.
See All new Canada-themed Stock footage files here
View our entire Video Backgrounds category here
NEW CANADA DAY POSTERS
Four landscape shaped, and four square Canada Day-themed posters have also been added.
You can easily add in your own text on these and share them in social media, use them in presentations, or whatever fits your project. They are delivered in large dimensions of 2048×2048 pixels, and 1920×1080 for the landscape versions to fit into full HD videos and Powerpoint presentations. Drag and use them in any graphics, video or online presentation tool, for example Canva.
See new Happy Canada Day posters here
View our entire Graphics Backgrounds section here
NEW CANADA THEMED PHOTOS
We loaded up a lot of new photos. Mainly from British Columbia, Vancouver, Vancouver Island, Cathedral Grove areas.
Check below for a quick overview of some of them. Photos are delivered in extra-large format, up to 6000×4000 pixels.
See and download Canada-themed photos here
View our entire Photo Category here
NEW MONTHLY BONUS: 4TH OF JULY BACKGROUNDS AND OVERLAY TEXT KIT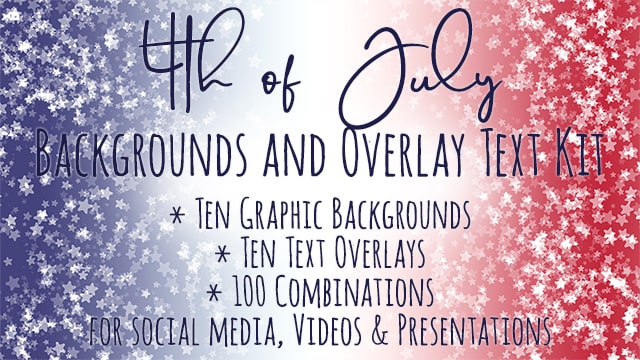 Happy 4th! Callouts is bringing you a large collection of July 4th, Independence Day assets specially designed for video, presentations and social media. Please note, this is a Monthly Bonus, only available for a limited time.
The collection includes ten different background graphics, and ten themed overlay texts, giving you 100 different options to create your own Happy 4th material. This kit is perfect when you need quick but professionally styles graphics and messages.
A lot of work has gone into the details of these assets. Drag and drop the background of your choice into your favorite graphics, presentation or video software. Then pick the overlay and add your own text as well.
Works well in for example Snagit, Camtasia, Powerpoint but also in, for example, Canva and other creative online tools.
See all Monthly Bonus assets here.

LAST DAYS: YOUR CUSTOM MADE LOGO INTRO VIDEO
Deadline to request your own custom logo intro is June 30th.
I am happy to present our latest monthly bonus, "Custom Shiny Assembling Logo Intro". We'll create a custom made logo intro for your brand.
Just send in your logo and preferred background color and we'll get to work. This is open to all Callouts premium members. The Sound effect is also included. Please see the video below for examples of how your video will look.
Details on how to request your custom made logo video here.
MONTHLY BONUS: SOUND FX VOL. 1
A sound effects collection including 26 useful sound effects. Listen to the sample above, the sample has been saved in lower quality than the actual stingers
Download Sound FX Vol. 1 here.
MUSIC BONUS – PRODUCERS PACK 3
When it comes to music collections, this one is one of my all-time favorites. Really packed with excellent music for your creative projects.
Studio Created Music – Not just a bunch of pre-made loops assembled without thought and structure. These songs are composed and produced by FOUR television composers – TSN (The Sports Network), The History Channel, Discovery, local cable channels, networks, and more.
Listen to more samples, and download the collection here.
COMING SOON…
In the wake of the Coronavirus outbreak, we will add a number of medically-themed assets soon.
We are also working on a new "showreel" template for Camtasia, with which you can create a showreel showcasing your videos or images in a rapid and stylish tempo.
Below you find a few examples of assets currently under development.
We are looking for input for more assets! If you have suggestions for themes or resources you'd like to see, just send us a message on our contact page.
And as usual much, much more! Thank you for taking the time to check out our new resources. See you soon!