Construction, Architecture & Real-Estate Themed Creative Visual Assets
Hello and welcome to this week's newsletter from Callouts.com!
We are delighted to unveil our latest creative visual assets tailored specifically for the construction, real estate, and architecture industries. Prepare to embark on an exhilarating journey through a realm where design meets functionality, as we introduce an array of resources that will elevate your projects to new heights.
Step into the shoes of a visionary architect as you explore our collection of high-resolution backgrounds, meticulously crafted to bring your concepts to life with astonishing realism. From stunning skyscrapers that punctuate city skylines to meticulously detailed interior designs and other construction-themed creative assets.
Looking to add a touch of professionalism to your presentations and marketing materials? Look no further! Our extensive library of visual assets captures the essence of architecture and real estate, providing you with visually striking images that will instantly captivate your audience.
Grab a membership here and save big. You'll get instant access to the new titles below. And our entire library of presentation, video, and visual communication resources, for a low yearly or monthly fee.
OK, let's check out our new Construction, Architect, and Real-Estate creative visual assets.

Peter Gillberg
Callouts Visual Assets Creator
Presenter Collection: Engineer Construction Worker
A new series of Presenter assets featuring an engineer, building constructor, architect, or similar.
The collection includes 10 character graphics in transparent PNG, 10 transparent animated character videos (MOV), and three different background environments. The included animated and still, character shows a construction worker or engineer in various positions, for example: saying hello, talking on mobile, frustrated, surprised, demonstrating, etc.
I made a quick example showcasing animated characters, made with Camtasia.
Access Presenter Collection: Engineer Construction Worker here
Visit our Green Screen/Transparent Video section
Construction, Architect, and Real-Estate themed background illustrations
We've added a large collection of construction-themed background illustrations and photos. You can see a few of them in the preview image below. They are delivered in large dimensions around 3300×2000 pixels, suitable for almost any use. Inspired by the most popular stock images around, but all unique for Callouts.
Check out Construction, Architecture, and Real-estate themed backgrounds here
New C&W Music: "Country Comfort", 9 versions
Country Comfort – Country Music. Nine different versions are available to fit all project needs.
New Monthly Bonus: Corporate Pack 3 Music Collection
A collection of 8 different songs in various lengths to fit your project with 26 tracks in total and no less than 50MB of music for your creative projects. Make sure you listen to the sample to see if it's a good fit for your creative projects.
You'll find a mix of uplifting tracks spanning different music genres.
Details:
File Format: MP3
Length: Various Lengths 30s-3min
Genre: Corporate, Infomercial, Uplifting, Inspiring
Download Corporate Music Pack 3
MONTHLY BONUS: CORPORATE MUSIC PACK 1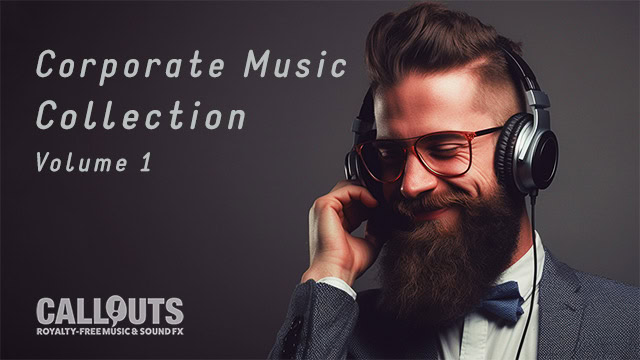 Please note, this is a Monthly Bonus and will only be available for a limited time.
A collection of 8 songs in various lengths to fit your project with 17 tracks. Listen to the sample by clicking Play above.
You'll find a mix of uplifting tracks spanning different music genres such as Pop, Jazz, Infomercial, Big band…
Check it out and download here
MONTHLY BONUS: USEFUL PHRASES STICKERS
Introducing the ultimate graphics collection for anyone looking to add some fun and creativity to their projects: "130 Useful Phrases Stickers"! With 130 uniquely designed stickers in various shapes and sizes, this collection is perfect for adding a pop of color and personality to your digital creations. Each sticker is transparent, making them easy to use in any software by simply dragging and dropping them in. Check out the preview video and an image overview of all included stickers below.
Please note, this is a Monthly Bonus and will only be available for a limited time.
LAST DAYS – MONTHLY BONUS: TRANQUILITY, A HUGE COLLECTION OF HARMONY AND MEDITATIVE MUSIC
New Music Monthly bonus available! Listen to music samples in the video above.
Step into a world of harmony and tranquility with our latest album, featuring a collection of 12 mesmerizing tracks from various composers. Each piece has been carefully chosen to transport you to a state of deep meditation and inner peace.
Let the beautiful melodies and soothing sounds take you on a journey of self-discovery and relaxation, as you explore the depths of your consciousness and connect with your innermost being.
Whether you're seeking solace from the hustle and bustle of daily life or simply looking to enhance your meditation practice, this album is the perfect companion.
With its gentle and ethereal tones, it will guide you to a state of serenity and stillness, helping you to find balance and harmony in your body, mind, and spirit.
LAST DAYS – MONTHLY BONUS: SUPERFRAMES
New creative Monthly bonus available!
Superframes is a collection of overlay graphics made for the creative sharing of images and videos. It's easy to use. Just drag into your favorite photo, video, or presentation software and place them on top of your image to make it just stand out a little bit extra. It will also work in online tools for example Canva, just by drag-and-drop.
The collection includes 57 different overlay graphics, with subtle effects like glare and reflections. Many are delivered in vertical, horizontal (Full HD), and square formats to fit your project needs.
Check out a few previews below.
New assets coming shortly, stay tuned!