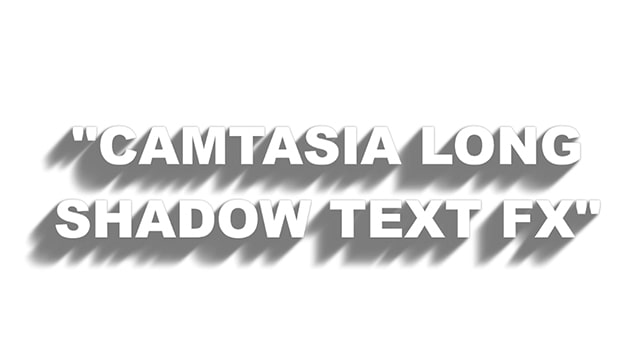 Camtasia Long Shadow Text FX Template Collection
Long Shadows is a very popular design concept that has not previously been available, and very difficult to create in Camtasia. This collection is optimized for both Camtasia 9 and 2018 versions, and installers are delivered for both versions. It should also work for Camtasia 2018 Mac version.
This new collection includes 25 new templates that you can install and use directly from inside the Camtasia Library. New is also that you don't need to edit the text in the timeline, but we have included the option of editing the text, font, size, etc. directly in the Camtasia Quick Properties editor.
Included in this template collection:
✓ 3 Different Shadow Styles in the different shadow directions
✓ 6 Different Shadow Direction (18 versions in total)
✓ 4 Pre-animated Shadow Text FX
✓ 3 Suitable light grey backgrounds
✓ Help file to get you started
Check out the preview video for more info
Edit texts directly in the Quick Properties
TechSmith Camtasia© is made by TechSmith Corporation. More info: www.techsmith.com. This Camtasia Template Collection is an independent Library Asset for Camtasia, made by SoftwareCasa/Callouts. SoftwareCasa is not associated with TechSmith Corp. This Camtasia Template Collection for Camtasia can be downloaded by members on www.callouts.com.
Keywords
camtasia
,
camtasia 2018
,
camtasia 9
,
camtasia animation
,
camtasia assets
,
camtasia effect
,
camtasia intro
,
camtasia long shadow
,
camtasia presentation
,
camtasia project
,
camtasia screencast template
,
camtasia showcase
,
camtasia studio
,
camtasia template
,
camtasia text
,
camtasia text animation
,
camtasia text fx
,
camtasia text template
,
camtasia titles
,
camtasia video template
,
camtasia webpage template
,
camtasia website template
,
intro
,
long shadows
,
outro
,
presentation
,
presenter
,
screen recording
,
screencast
,
techsmith
,
template
,
video animation