Happy 4th, with Creative Bonus Assets
I wanted to wish our US members a Happy 4th of July! To celebrate we have opened our popular bonus "4th of July Backgrounds and Overlay Text Kit", available for a limited time. Below you'll also find additional assets suitable for Independence Day.
It is also the absolute last days to request your custom logo video intro, so do not miss this!
Not yet a member? All creative assets found on Callouts can be downloaded by our Premium Members. Grab a membership here to save big and get instant access to the titles below as well as our entire library of presentation and visual communication resources, for a low yearly or monthly fee.
Happy 4th of July, stay creative and safe!
NEW MONTHLY BONUS: 4TH OF JULY BACKGROUNDS AND OVERLAYS
Note: Monthly Bonus, only available for a limited time.
Happy 4th! Callouts is bringing you a large collection of July 4th, Independence Day assets specially designed for video, presentations and social media. Please note, this is a Monthly Bonus, only available for a limited time.
The collection includes ten different background graphics, and ten themed overlay texts, giving you 100 different options to create your own Happy 4th material. This kit is perfect when you need quick but professionally styles graphics and messages.
A lot of work has gone into the details of these assets. Drag and drop the background of your choice into your favorite graphics, presentation, or video software. Then pick the overlay and add your own text as well.
Works well in for example Snagit, Camtasia, Powerpoint but also in for example Canva and other creative online tools.
Download 4th of July Monthly Bonus here
MONTHLY BONUS – CUSTOM LOGO VIDEO – LAST DAY!
Note, this Monthly Bonus will be removed on July 3rd.
I am happy to present our latest monthly bonus, "Custom Shiny Assembling Logo Intro". We'll create a custom made logo intro for your brand.
Just send in your logo and preferred background color and we'll get to work. This is open to all Callouts premium members. The Sound effect is also included. Please see the video below for examples of how your video will look.
More details on how to send in your logo and request your video here
FREE INDEPENDENCE DECLARATION ON US FLAG BACKGROUND GRAPHIC
Free download to celebrate the 4th of July, Independence day! This is a so-called blended background graphic, that you can use as a backdrop for your July 4thprojects.
It will work in video, presentations and social media. The image is a US flag with the Declaration of Independence printed on top of it. The flag has a paper styled texture.
You can use this royalty-free in both personal and commercial projects, but not for resale.
Download Free Independence Declaration on Flag here
More Freebie (no membership needed) assets here
US FLAG POSTERS
Find Flag and USA themed posters here
INDEPENDENCE 3D GUYS
4th of July celebrating 3D guys for your projects!
Click on each image to download the individual asset.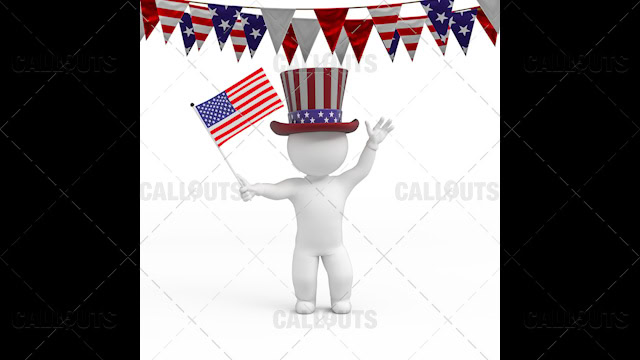 MORE US AND 4TH OF JULY THEMED ASSETS
You can find additional 4th of July themed assets here, and USA themed assets here.
Happy 4th of July, stay creative and safe!
COMING SOON…
In the wake of the Coronavirus outbreak, we will add a number of medically-themed assets soon.
We are also working on a new "showreel" template for Camtasia, with which you can create a showreel showcasing your videos or images in a rapid and stylish tempo.
Below you find a few examples of assets currently under development.
We are looking for input for more assets! If you have suggestions for themes or resources you'd like to see, just send us a message on our contact page.
And as usual much, much more! Thank you for taking the time to check out our new resources. See you soon!