New Camtasia Transitions, Presenter Guys & Loads of Music
We have a packed summer issue for you this month. Check out our new template collection for Camtasia, with 16 new modern transitions for your creative video projects. This will definitely spice up your transitions!
We've also added four new Monthly bonuses, and two bonuses soon to be removed, so be sure to check them out. I'm especially proud of the new Presenter/Explainer Guy collection, with 76 great presenter characters, perfect for your PowerPoints and videos.
And we've also loaded up with lots of great music. Be sure to check out the new Chillout track "Afterglow". I've used it for our videos several times already, so it's not to be missed.
And don't miss out on our new cool custom Logo Intros on Callouts Studio. Available for 50% off for Callouts members here.
Not yet a member? All creative assets found on Callouts can be downloaded by our Premium Members. Grab a membership here to save big and get instant access to the titles below as well as our entire library of presentation and visual communication resources, for a low yearly or monthly fee.
Stay creative and safe!
NEW CAMTASIA COLLECTION: "MODERN TRANSITIONS"
We are happy to present our latest template collection for Camtasia – Modern Transitions!
The template collection includes 16 different modern, stylish drag-and-drop transition templates. Templates install directly into the Camtasia Library, and each template is clearly named based on style and animation.
Installers are included for Camtasia 9, 2018, 2019, and 2020. The templates should also work in future versions.
Templates have been inspired by modern, flat transitions. Many have also been prepared to use in multiple colors with easy control.
More information and download Camtasia Modern Transitions here.
See all our Camtasia Templates here.
NEW MONTHLY BONUS: PRESENTER GUYS GRAPHICS COLLECTION
Monthly bonus, available for a limited time only! In this collection you find a black and white business guy, in no less than 76 different poses/situations/emotions.
The collection was developed specifically to create presentations and explainer videos and to cover many situations you may encounter in your storytelling.
Drag-and-drop into your video editor or presentation program, for example Powerpoint, Keynote or Google slides. Can also easily be used with online cloud editors like Canva with ease. Or use with your video editor, for example Camtasia, Vegas, Premiere or pretty much any other video editor.
Download Presenter/Explainer Guys here.
A smaller version, with ten guys, is also available here for free. To get a sense of how you can use these graphics, please see a preview video showcasing the free version.
Overview of included assets.
NEW CHILLOUT MUSIC: AFTERGLOW
A summer themed chillout track, Afterglow. Nine different versions available to fit all your projects.
File Format: MP3
Genre: Chill out, Relax, Cinematic, Corporate, Ambient
Length: Up to 3:14
All Afterglow Chillout Music versions here
NEW MONTHLY BONUS: CORPORATE PACK 3 MUSIC COLLECTION
A collection of 8 different songs in various lengths to fit your project with 26 tracks in total and no less than 50MB of music for your creative projects. Make sure you listen to the sample to see if it's a good fit for your creative projects.
You'll find a mix of uplifting tracks spanning over different music genres.
See all Monthly Bonus assets here.
NEW MONTHLY BONUS: PRODUCER SOUND EFFECTS
The PRODUCER EFFECTS series is a variety of sound effects including orchestral, foley and synthetic. Looking for a taste of variety? Then this pack is for you.
The collection includes 30 different sound effects in various categories. What do you say about titles such as "alien slam", "seashore1", "psycho orchestra", "mystery orchestra hit" and many others. Listen to the sample above.
See all Monthly Bonus assets here.
NEW MONTHLY BONUS: VARIETY PACK MUSIC COLLECTION
This package contains a compilation of popular music tracks from a variety of genres: Romance, Sports Extreme, World Music, Dance, and Business.This is a Montly Bonus, only available for a limited time.
Mixed collection – the perfect allround pack!
The Variety Pack boasts a mixed collection of both songs and stingers. Songs are longer and stingers are great to create impact in your presentations, screencasts and videos as they have a shorter duration. All in all the the collection include 30 music files.
This package of MP3 stereo 128-bit royalty-free music files contains a variety of up-tempo "dance" grooves, romantic, world, mid-tempo tracks, and music stingers:
See all Monthly Bonus assets here.
LAST DAYS: 4TH OF JULY BACKGROUNDS AND OVERLAY TEXT KIT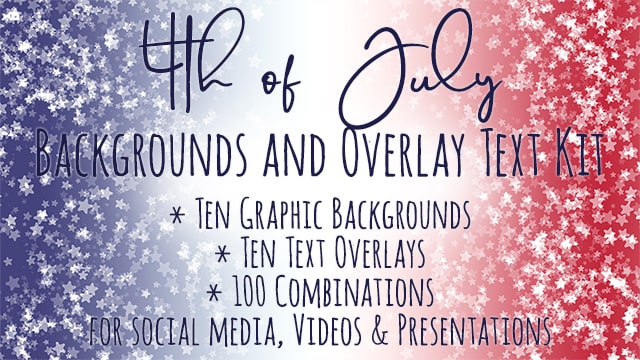 This Monthly Bonus collection will be removed in a few days.
Callouts brings a large collection of July 4th, Independence Day assets specially designed for video, presentations, and social media. Please note, this is a Monthly Bonus, only available for a limited time.
The collection includes ten different background graphics, and ten themed overlay texts, giving you 100 different options to create your own Happy 4th material. This kit is perfect when you need quick but professionally styles graphics and messages.
A lot of work has gone into the details of these assets. Drag and drop the background of your choice into your favorite graphics, presentation or video software. Then pick the overlay and add your own text as well.
Works well in for example Snagit, Camtasia, Powerpoint but also in, for example, Canva and other creative online tools.
See all Monthly Bonus assets here.
LAST DAYS: PRODUCERS PACK 3 MUSIC COLLECTION
This Monthly Bonus collection will be removed in a few days.
When it comes to music collections, this one is one of my all-time favorites. Really packed with excellent music for your creative projects.
Studio Created Music – Not just a bunch of pre-made loops assembled without thought and structure. These songs are composed and produced by FOUR television composers – TSN (The Sports Network), The History Channel, Discovery, local cable channels, networks, and more.
Listen to more samples, and download the collection here.
DON'T MISS! CALLOUTS STUDIO OPPORTUNITY
Video Intro with Your Own Logo/Image
Video Intro with Your Own Logo/Image – Choose among our templates, send in your logo and we'll create your custom video intro.
We have a great launch offer for you! Choose your own custom logo intro video (20 versions available, see below), $10 for Callouts members (coupon on your Callouts account welcome page), and $20 if you're not yet a member. The coupon is available for Callouts members throughout July and August 2020. Can be used as many times you like.
More info about Callouts Studio here.
COMING SOON…
In the wake of the Coronavirus outbreak, we will add a number of medically-themed assets soon.
We are also working on a new "showreel" template for Camtasia, with which you can create a showreel showcasing your videos or images in a rapid and stylish tempo.
Below you find a few examples of assets currently under development.
We are looking for input for more assets! If you have suggestions for themes or resources you'd like to see, just send us a message on our contact page.
And as usual much, much more! Thank you for taking the time to check out our new resources. See you soon!