Medical Themed Presentation Assets
We live in perilous times and for many of us, it is the first and hopefully the last pandemic of this scale, that we will ever have to experience.
Callouts will continue to add assets, so if you are in need of anything specific, just let us know and we'll try our best to create those for you.
This week we-ve added medical, virus, and care themed presentation assets. Among them six Coronavirus, Covid-19 related backgrounds, 2 icon collections, 50 medical-themed photos, and new music tracks.
Not yet a member? All creative assets found on Callouts can be downloaded by our Premium Members. Grab a membership here to save big and get instant access to the titles below as well as our entire library of presentation and visual communication resources, for a low yearly or monthly fee.
OK, let's check out the new assets, and remember – stay safe!
NEW! CORONAVIRUS (COVID-19) 3D ILLUSTRATIONS
In our 3D section, you'll find 6 new Coronavirus Covid-19 themed presentation backgrounds with space for text. There are also two versions of transparent Covid closeups.
See our 3D section for overview and downloads.
NEW PHOTOS: DOCTORS, MEDICAL STAFF, MEDICINE, SUPPLEMENTS…
In our photo section, you'll find 50 new medical-themed photos. Featuring doctors, researchers, virus, eye-exam, closeups of supplements and pills.
Many of the photos also have text space (copy space), for you to add your own text. Below are some of my favorites.
See the photo category to see and download all of them.
NEW MEDICAL ICON COLLECTIONS
Two new sets of medical-themed icon collections have been added. One round and one transparent style. Each collection includes 20 transparent icons that you can place on any background, in any software. Large enough to be used in presentations and videos.
See the collections in our icons/stamps section here.
NEW SCIENCE/TECH MUSIC: "INNOVATION"
A fitting title under the circumstances. Just what we need right now, some innovation. And apart from the title, the track is just perfect for those striking news and headlines you want to give maximum exposure.
Innovation is a Science and News themed track. Four versions are available.
All Innovation tracks can be found here.
See all music in the music category here.
MONTHLY BONUS: FEMALE BUSINESS TOON PRESENTER COLLECTION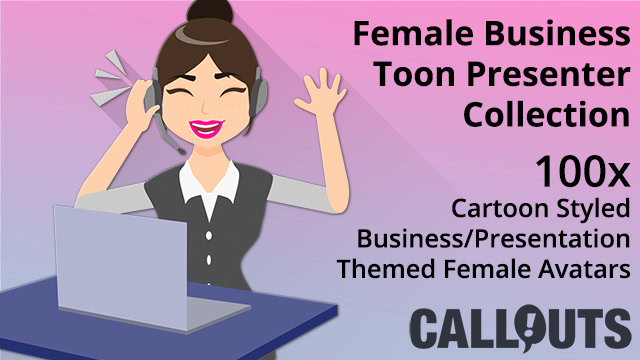 100 female business toon avatars in one large collection.
The collection has a business theme, with five groups of avatars, 20 different images in each. We have included businesswomen, customer support, casual businesswoman, women in office and women in the retail sector. There is an element of popular manga style in images.
All images are large, 1024 pixels high, perfect for Powerpoint, or video presentations. They are transparent in PNG format, so you can just drop them into virtually all software, and place them on any background.
Access our new Female Business Toon Presenter Collection here.
Here is an overview of the included assets.
MUSIC BONUS – CORPORATE PACK 1
Monthly bonus, available for a limited time only.
A collection of 8 different commercially themed tracks in various lengths to fit your project with 17 tracks in total. Listen to the samples above.
You'll find a mix of uplifting tracks spanning over different music genres such as Pop, Jazz, Infomercial, Big band…
File Format: MP3
Length: Various Lengths 30s-2min
Genre: Corporate, Infomercial, Uplifting, Inspiring
More information and download available here.
COMING SOON…
In the wake of the Coronavirus outbreak, we will add a number of medically-themed assets over the next couple of weeks.
We are also working on a new "showreel" template for Camtasia, with which you can create a showreel showcasing your videos or images in a rapid and stylish tempo.
Below you find a few examples of assets currently under development.
We are looking for input for more assets! If you have suggestions for themes or resources you'd like to see, just send us a message on our contact page.
And as usual much, much more! Thank you for taking the time to check out our new resources. See you soon!